Nigerian President's CSU Diploma is a Fake
Read Time:
4 Minute, 13 Second
Sep 22
Written By J. Coyden Palmer
I gotta admit. This one story shows the level of corruption in Nigeria and it makes you cry and laugh at the same time. The President of Nigeria Bola Tinubu, produced a fake diploma from Chicago State University to an election board in Nigeria that claims he graduated from the South Side institution in 1979. CSU officials have confirmed in court that Tinubu did indeed graduate from the university, but cannot confirm the authenticity of the diploma that has now been submitted into evidence in a federal court. U.S. District Judge Nancy Maldonado on Thursday issued a stay on an order that would have required CSU officials to provide documents from the University confirming or denying President Tinubu's claims. The matter has thrusted CSU into an international political war, in which political opponents of Tinubu and many Nigerian citizens are calling for his removal from office. He was just elected to lead the country back in February.
Let me make this easy for you. The diploma itself is a fake. On the alleged diploma, the date of graduation is listed as June 27, 1979. The signature of the CSU president shows Elnora D. Daniel. I almost spit out my coffee I laughed so hard when I saw this. Dr. Daniel didn't become the president of Chicago State until 1998. How do I know? Because I covered her inauguration and her first two years at Chicago State when I was a student reporter for the now defunct school newspaper TEMPO. Additionally, on the fake diploma, Dr. Niva Lubin is listed as the President of the Board of Trustees. Dr. Lubin did not even start serving on the board until 1996. I've known Dr. Lubin since my days as student at CSU and she is a lifelong resident of Chatham where I grew up.
Furthermore, in 1979, Dr. Daniel was working as a teaching assistant at Columbia University, according to her biography and the resume she submitted when she applied to become the president of Chicago State in 1998. Now 81, retired and living on the east coast, I'd love to know her reaction to the news that the President of Nigeria who is 71 himself claims she signed his diploma. The president of CSU in1979 was actually Dr. Benjamin H. Alexander, who died in 1997 and was the first African American to serve in that role at CSU.
In 1979, Dr. Lubin, now married and going by the name Lubin-Johnson, well she wasn't even a doctor in 1979. She didn't become a physician until 1984. So how two signatures of people who were not working at CSU came to be on a document that the president of Nigeria is trying to sell as legit isn't really a mystery. It is a lie. It is deceit. It is part of what is ruining many African nations and the world as a whole; corruption.
Other inaccuracies on the fake diploma that can easily be spotted by anyone who ever attended CSU, the University logo is all wrong for that time period. Again, I know this because the logo on the fake diploma is the one that was controversial when it was changed in 1999. Myself and my fellow student journalists at TEMPO wrote a story about the change in the school symbol because those against it said it was a waste of money. They claimed changing all the school letterhead and signage to the new symbol would remove financial resources from other needs. President Daniel thought the change would be better marketing for the University so the change was approved by the Board. The University symbol in 1979 was a triangle with two bars. The bars represent the growth of the institution, starting as Chicago Teachers College, then Chicago State College (1967) and eventually Chicago State University (1971). I know this because I had to read that stupid handbook like all freshmen and you learn about the history of the school.
CSU attorney Michael Hayes said the University is prepared to do whatever the court asks of it. He said this international controversy has brought unwanted and unfair publicity to the school. I would debate that claim as CSU does enough stupid stuff that brings bad publicity to itself. However, I must admit, for now at least, it seems that CSU is a victim here of a Nigerian scammer. It wouldn't be the first time an American institution fell victim to scammers in Africa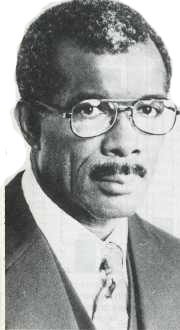 Please follow and like us: