Rivers State: Eko Hotel Staff, Ngozi Mary Kekwaru Who Returned $70,000 Forgotten By A Guest To The Owner, Honoured And Unveiled As Ambassador Of Her Local Government
Read Time:
2 Minute, 6 Second
It was a feast of honours for Mis Ngozi Mary Kekwaru, the Customer Care staff of Eko Hotels, Lagos, in Rivers State recently as she was honoured for her uncommon display of honesty for returning the sum of $70,000 forgotten by a guest to the owner.
First, she was unveiled as the Ambassador of Emohua Local Government Area of Rivers State where she hails from in recognition of her exceptional show of honesty and integrity last Thursday.
Chidi Lloyd, the chairman of Emohua LGA unveiled Kekwaru as Brand Ambassador at a ceremony in the council secretariat in Emohua Town.
Kekwaru was given the opportunity of performing the ground-breaking ceremony for the construction of one Kilometer Omkpoba-Mgbere road being executed in Ibaa Community of the local government before proceeding to the council secretariat for her formal decoration as Ambassador.
Community leaders, key stakeholders and members of the general public attended the event.
She was also awarded a chieftaincy title while a prominent pavilion was also named after her.
Speaking at the event, Kekwaru expressed appreciation to the Emohua and Ikwerre Local Governments areas, Council of Chiefs of local government and the people of Rivers State and Nigeria for the honours bestowed on her.
She advised the people of council area, especially the youths, to learn from her example to rewrite the negative images criminal activities were attracting to the Emohua Council area.
She said she did not steal $70,000 because she remembered the Christian virtues of not taking what does not belong to her.
Kekwaru said since the incident, good wills have been pouring in for her from within and outside the country, which she never anticipated.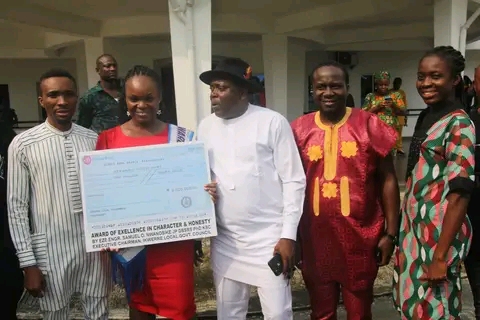 Kekwaru also received N2million Cheque from Ikwerre Local Government Council Chairman, Dr. Samuel Nwanosike at the Council Headquarters, Isiokpo.
She thanked the LGA Chairman for the kind gesture and promised to be a good ambassador of Ikwerre Ethnic Nationality anywhere she found herself in the world.
Kekwaru who was at the council with her mum, brothers and sisters dedicated her award and rewards to her late father and all those who contributed in one way or another to her good and morally upright upbringing.
However, Miss Kekwaru also visited people who played a significant role in her life in her formative years including her teacher during the visit to Rivers.
Please follow and like us: