Cristiano Ronaldo, now Instagram's highest earner, rakes in a staggering £1.87m per post
Superstar footballer, Cristiano Ronaldo has leapfrogged reality star Kylie Jenner to become Instagram's highest-paid user.
Ronaldo, who has the highest number of followers on the app with 597 million Instagram followers, has made a fortune by promoting several big brands on his account.
The former Manchester United striker now earns £1.87 million more than reality star Kylie Jenner in every sponsored post. The reality star has now fallen to the second position in the recent ranking.
According to reports from the Sun, Kylie Jenner has profited by endorsing designer Jean Paul Gaultier and her own products, like Kylie Cosmetics and Kylie Swim.
The footballer Lionel Messi, who charges £1.38 million for a sponsored post, is third on the Instagram Rich List. He has 479 million fans on the website and is the second most followed celebrity.
Singer Selena Gomez is ranked fourth, followed by actor Dwayne Johnson who is in fifth position.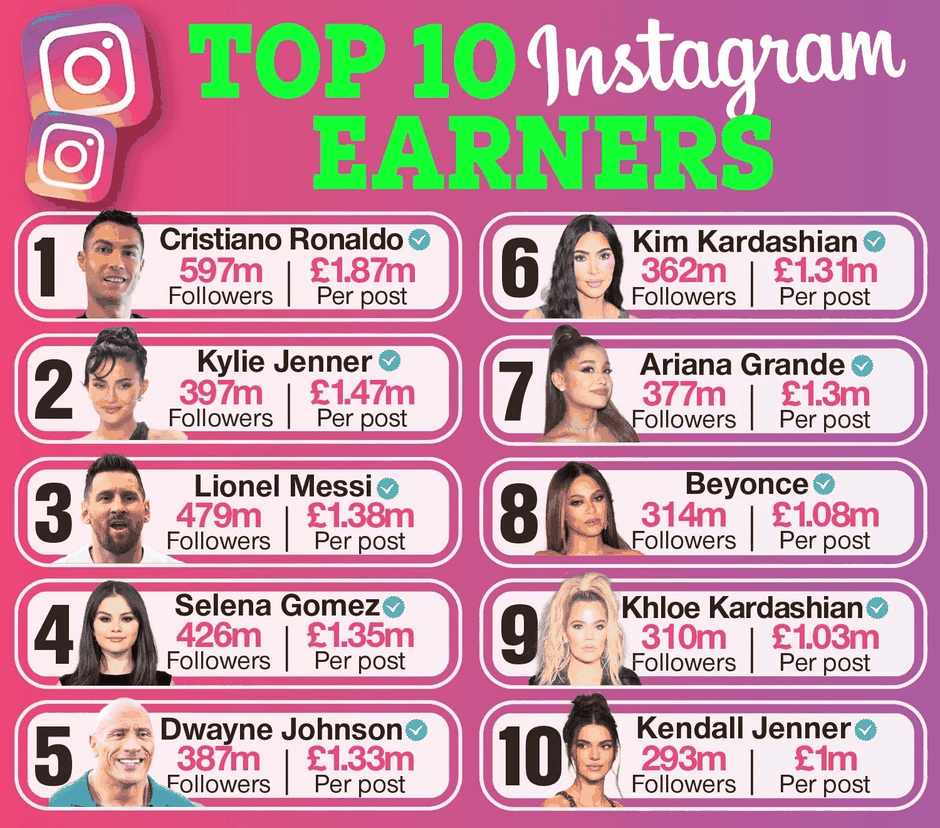 The societies of the world would be still and motionless without the activities of humans{people} While the acts of some persons enhances positive developments of societies, others destroys humanity and the society. PeoplesActs News is an outstanding ground breaking NEWS website/Blog that encourages citizens to report ongoing activities of those in positions of authority and happenings in their environment. Using photos, text and videos, the Blog informs and prompts concerned citizens and activists all over the world, toact and formally denounce actions of those who uses their privileged positions to act in such a manner that destroys the fabrics of society. PeoplesActs News is published by GRUTOM Publications Company registered in Nigeria, with registration number LAZ. 072585
Please follow and like us:
0
0