Rioters in France ram mayor's home with a burning car 'in assassination attempt' that left his wife and children injured (Photos)
Read Time:
2 Minute, 6 Second
A French mayor has branded an attack on his home as an 'assassination attempt' as rioting enters its fifth day.
France has seen widespread riots and multiple arrests following the death of 17-year-old delivery driver, Nahel Merzouk.
He was shot by police after failing to stop for a traffic stop. The officer has since been handed preliminary murder charges.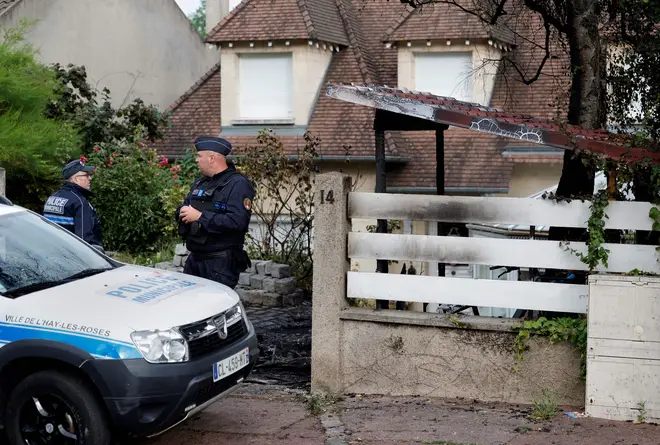 After Nahel was laid to rest in his hometown near Paris on Saturday, the interior ministry said police had made 719 arrests overnight, still a provisional tally, after around 1,300 the previous night.
Mayor of L'Hay-les-Roses, Vincent Jeanbrun said protesters had 'rammed a car' into his home before then setting it on fire.
His wife and one of his children were injured in the attack. The wife is being treated in hospital for a broken leg, an injury she sustained in the escape, the local prosecutor told BFM TV. One of his children was also hurt.
It happened at around 1.30am on Sunday morning while he was at City Hall and his wife and two children were sleeping at home.
Mr. Jeanbrun, from the conservative Les Republicains party, was not at home but at the town hall during the incident. The town hall has been the target of attack for several nights since the shooting and has been protected with barbed wire and barricades.
Mr. Jeanbrun vowed to 'not back down' and said his 'determination to protect and serve the Republic is greater than ever', the MailOnline reports.
He said: 'Last night a milestone was reached in horror and disgrace. My wife and one of my children were injured.
'I do not have words strong enough to describe my emotions following the horror of the attack.
'My priority today is to take care of my family.'
The family will receive "reinforced protection", the prefect of police of Paris, Laurent Nunez told BFM TV.
Prime Minister Elisabeth Borne condemned the incident, which prosecutors said is being investigated for attempted murder.
"The Prime Minister condemns these intolerable facts and gives her full support to the mayor of L'Hay-les-Roses and his relatives," the government said on Sunday.
"She sent a message to the mayor and his family who are still in shock. The culprits will be prosecuted with the greatest firmness."
No suspects have been arrested.
According to the ministry, 45 police officers, or gendarmes, were injured, 577 vehicles torched, 74 buildings set on fire and 871 fires started in streets and other public spaces overnight.
Please follow and like us: