Russian-Ukrainian War : Russian Soldiers Admit Military Is Shooting Its Own Members
Read Time:
2 Minute, 33 Second
In a video published Monday by Ukraine's security service, two Russian prisoners of war described how military units from their country shoot their own retreating troops.
The two men were reportedly captured while fighting in the war in Ukraine. One of the two POWs was identified by the Security Service of Ukraine (SBU) as a "machine gunner" in Russia's Federal Security Service (FSB).
During an interview with SBU interrogators, the unnamed FSB operative said he was given orders to open fire on deserters in Ukraine.
"I stood on the second line and did not allow the 'Z-assault' forces to retreat. The order was to fire to kill in case they retreat," the Russian said, according to a translation by the Ukrainian state news agency Ukrinform.
The SBU referred to the other captured man as a "Z-assault" unit soldier, who reportedly said he was afraid that his own comrades would kill him if he fled from battle. As a result, he decided to surrender to Ukrainian troops.
"After arriving there [at the position], we didn't get any instructions, they told us to get into the bush and hide from the 'birds.' These are quadcopters. In case we decided to retreat, we were told that there are blocking units behind us…. They would shoot anyone fleeing," the soldier said, according to Ukrinform.
The SBU shared a clip of its interrogation of the two Russian POWs on Telegram and its YouTube channel.
Ukrinform wrote that the FSB member was in charge of a "blocking unit." Such units, sometimes called "barrier troops," are tasked with enforcing military discipline, which includes preventing soldiers from running away from battle.
In a post about the POWs' comments on its website, the SBU said it had previously intercepted communications, which were from an unspecified date, that allegedly confirm the use of blocking units by Russia.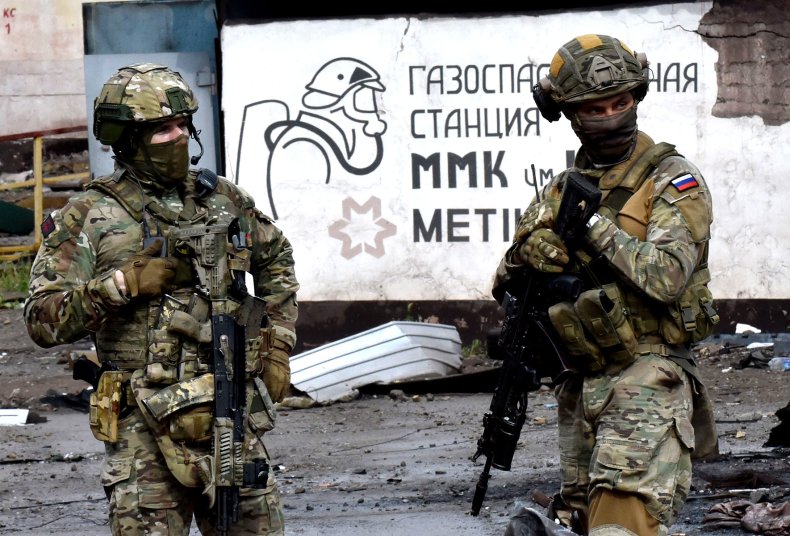 The admissions from the POWs came as a Ukrainian Telegram channel published drone footage on Monday that reportedly shows three Russian soldiers shooting retreating comrades.
That video was posted by Ishi Svoikh, also known as "Look for Your Own," which is a project created with the backing of Ukraine's Ministry of Internal Affairs. The Kyiv Post wrote that the Ukrainian news agency UNIAN confirmed the video's authenticity and identified the soldiers who opened fire as barrier troops.
Asked about barrier troops in a previous story on the drone footage, Jason Jay Smart, a political adviser on post-Soviet and international politics, told Newsweek that "Russians shooting their own troops has a long tradition in Russian military history, and it has been commonplace throughout this war."
He added, "This incident, showing a total lack of concern or interest in preserving human life, is the epitome of how the Russian military thinks and behaves."
Please follow and like us: