Russian-Ukrainian War : Putin Suffers Early Setback in Ukraine's Counteroffensive
Read Time:
3 Minute, 6 Second
Ukrianian forces have said they recaptured several settlements from Russia, marking early gains in its counteroffensive. However, experts say that it is premature to say whether the long-awaited push against Vladimir Putin's troops will succeed.
Kyiv has launched attacks and gained ground in several places along its front line with Russia. Ukrainian flags flying in the settlements in Donetsk oblast and one in Zaporizhzhia Oblast were touted by Ukraine as signaling early progress.
There were concerns that the destruction of the Nova Kakhovka dam in the Kherson region, which Kyiv has blamed Moscow for, would have an impact on Ukraine's counteroffensive plans.
With Kyiv saying that the push is proceeding, Ukrainian General Staff spokesperson Andriy Kovalev added on Tuesday that Kyiv's forces had liberated over 38 square miles since the counteroffensive started.
Hanna Malyar, Ukraine's deputy defense minister, said the operation in at least three directions had seen Kyiv's forces advance by several hundred yards northeast and south of the Donetsk city of Bakhmut. She added that there have been advances of up to 1,000 meters [0.6 miles] around the border between Donetsk and Zaporizhzhia, liberating around 1.15 square miles of territory.
However, the counteroffensive is in its early stages. Vuk Vuksanovic is an associate at the London School of Economics think tank, LSE IDEAS. He told Newsweek that some of the settlements Ukraine had recaptured were in tough terrain and had changed hands several times since the war started in February 2022.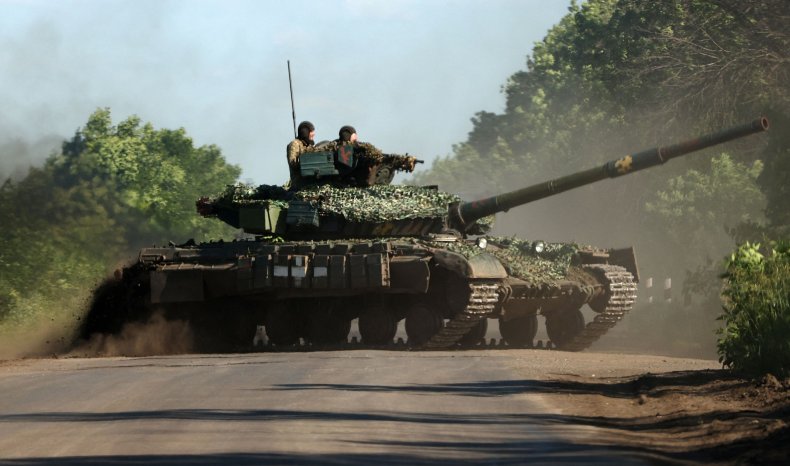 Also, after Putin's troops withdrew from Kharkiv in September 2022, "the Russians had built one of the most elaborate and complex systems of defensive fortifications," the first line of which Ukraine's forces have not reached.
"What would potentially worry the Russians would be Ukrainians retaking the city of Melitopol and breaking Russian forces in Crimea and the Donbas in two," Vuksanovic said. "However, this would still be a tough job for Ukrainians in overcoming all the Russian line of defence.
"Ukrainian forces would potentially be faced with a new uncertainty of becoming a spent force exposed to an attack by the Russian forces that have been mobilized and not fully engaged yet," Vuksanovic added.
In analysis published Wednesday, Jack Watling, senior research fellow for land warfare at the Royal United Services Institute (RUSI), said Kyiv's forces had broken through initial fighting positions along part of the front. He added, however, they were still some way from Russia's main defense line.
Also, Kyiv has not yet committed the bulk of its forces as its lead elements try to set the conditions for a breakthrough, Watling wrote. "Ukrainian forces are making gains, but the offensive is some way from its decisive phase," he added, "the fighting will likely get tougher.
"As Ukrainian forces penetrate deeper into the defences, they will come into range of more Russian artillery firing posts," Watling wrote.
However, he added that, if Ukraine can force Putin's units to reposition, "the poor training and discipline of Moscow's forces could see the defence become uncoordinated and susceptible to collapse."
Peter Rutland is professor of Russian, East European and Eurasian Studies at Wesleyan University, Middletown, Connecticut. He told Newsweek that Putin still had reason to be confident.
"Only a major breakthrough that severed the land bridge to Crimea would be a grave concern for him, and unfortunately that is unlikely to happen," Rutland said. "Attacks on targets inside Russia itself, such as oil depots and border towns, are a more immediate political challenge for Putin."
Please follow and like us: